ConfirmFresh.com also provides corporate fruit delivery to companies every week. With over 30 years of experience in the fresh food products business, we know good fresh produces and the people that harvest it.

Studies show that eating fresh fruit increases your concentration and productivity. Providing delicious fresh fruit at work will reduce sick days and reward your team for their hard work.


"Good staff are hard to find and even harder to hold on to."
We can help you take better care of your staff. It's now our pleasure to bring top quality, great value and convenience directly to you and your employers.

We deliver the freshest fruit to your offices so your staff could enjoy it. Keep your team energized and healthy by offering a healthy choice for snacking at work.




A fresh fruit box, is probably the most cost effective and healthy staff benefit you can provide. The team will love you for it!
Talk to us at 012-800 5868 or email to weiloon@confirmfresh.com for more info!
A quick phone call will make sure you get exactly what you want, when you need it, within your budget.
Check out our price here.
Want to educate your employees about a healthy diet?
Developing Good Habits in the Financial District
We can provide beautifully designed, workplace-friendly flyers and posters to prompt healthy snack choices, easy office exercises, companies' core values and fruit and nutrition education.
Want a lunch-and-learn event? Call us at 012-800 5868 and we can build a plan for your workplace.
Why fruit at work?
A number of survey has showed that companies which offers workplace health initiatives are more favored by employee. Wellness programs are one of the best ways for employers to promote a healthy workforce, contain rising healthcare expenses, and improve productivity.
"More than 30 years of evidence has shown that every $1 invested in a workplace wellness program returns at least $3.273, ROI of 327%! " Health Affairs, February 2010, vol. 29, no. 2
We deliver fresh fruits to office, worksite and school.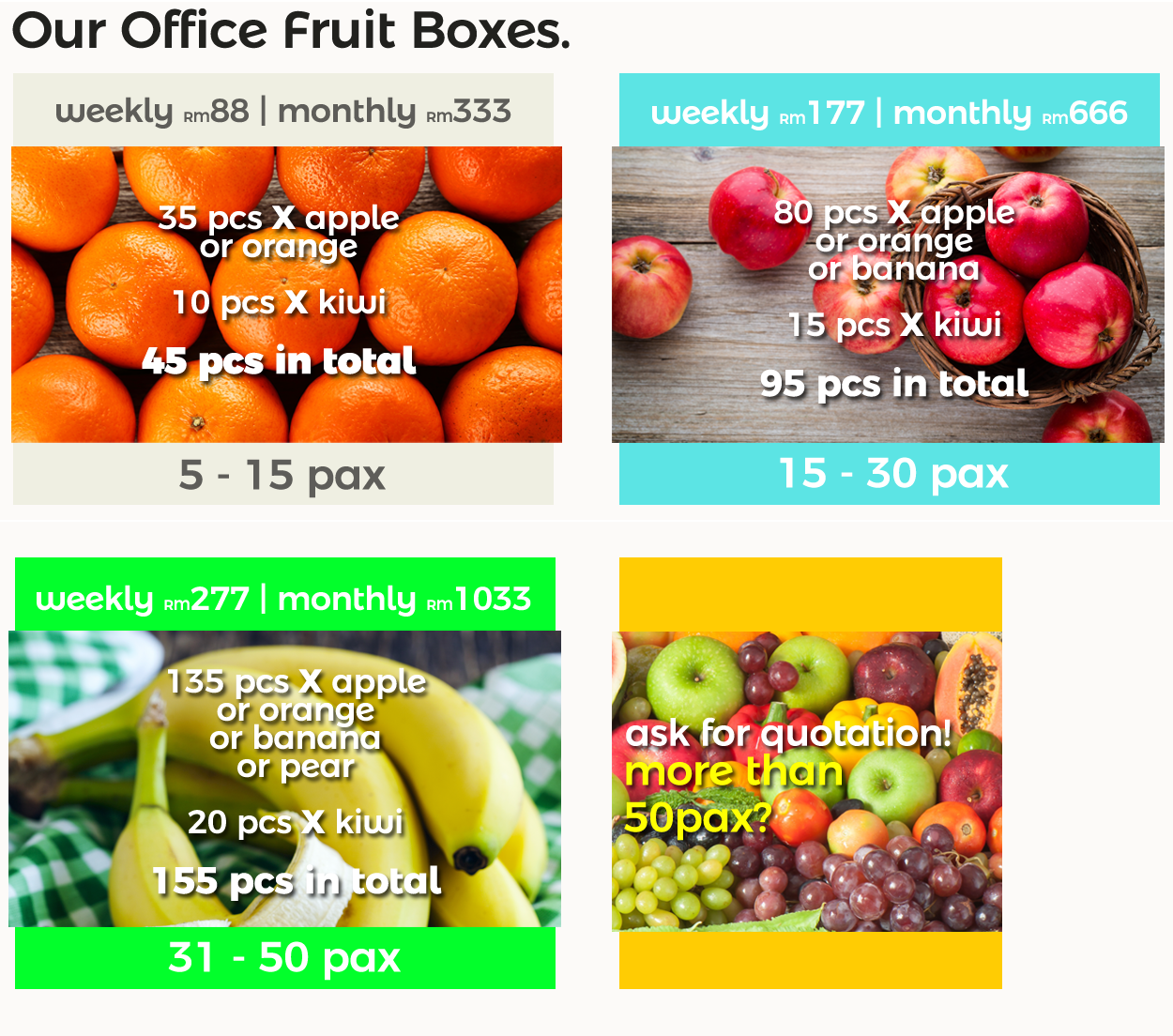 All our fruits are hand-picked and carefully inspected with minimal physical contact before delivered to our customers. Rest assured that there will be no strangers touching, squeezing or knocking your fruits beforehand.
Our name is our policy, if it is not ConfirmFresh, tell us and we will give you a debit or an 1 to 1 exchange.
Fresh fruit deliveries to offices is proven to significantly improve fruit consumption, prevent chronic illness and subsequently boost employees' satisfaction and productivity.
Make ConfirmFresh.com as part of your wellness program today!
Free Delivery to Klang Valley!
(Except Kajang, Klang, Puchong, Rawang, Semenyih, Serdang, Cyberjaya, Putrajaya and Sri Kembangan.)
call 012 800 5868 now or email to weiloon@confirmfresh.com to know more.